Insightful and informative articles, websites and books: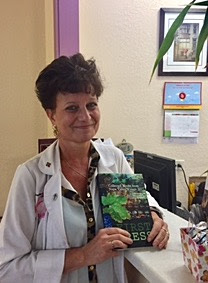 Rebecca Levy Delivers! I was sitting in my office when a middle-aged patient came in, tears in her eyes. I was not unused to patients in various stages of emotional distress in my consultation room, often there for help with some physical, emotional or health- related issue. I stopped typing at my computer keyboard to give her my full attention. "What can I help you with?" I asked?
"It's just so SO sad!" She said. She looked down. I offered her tissues. I stared at her curiously, trying to discern if she was going to continue on with her story, which I assumed would include some explanation of what medical or family issue was in need of my attention, when I realized she was holding the book in her hand.
By "The Book", I mean the Napa Writers Anthology book, which I was so lucky to have been a contributor to. I suddenly realized she was referring to MY piece in the book, entitled "TINY FEET," which, indeed was, so so sad. I wasn't sure if I should thank her for reading (or buying) it, or ask if there was something I could do to help her get over her grief.
Since that day, I have had calls and text messages and emails from people– patients, friends and family– complimenting the book, asking where they can read more of these talented authors' works, and wanting to purchase the book for themselves.
I decided to put it on display in my office (Premier ObGyn Napa Inc, located at 3030 Beard Rd in Napa) so people could read it while sitting in the waiting area. It has been a great "tease", since no one waits in my waiting room long enough to read more than two pieces. They often end up wanting more. They either purchase one right there on the spot or go to Amazon and buy one (or more — for friends and family).
Being able to discuss my interest in writing, my passion for my work, and having written a true story that people find moving enough to bring to my attention during their office visits has brought a whole new dimension to my life, as a physician and now, as a medical memoirist!
Napa Valley Writers Club is excited to announce the inaugural production of FIRST PRESS: COLLECTED WORKS FROM NAPA VALLEY WRITERS, 2017 which was released in April 2017. It is available for purchase in our office and at AMAZON for the price of $15. Dr Levy-Gantt's piece is entitled "TINY FEET" and you can find it on page 237.
GO TO MEDIUM.com or any of these links to find many articles on reproduction, sex, libido and menopause by Dr Levy-Gantt.
***Especially this first one– Advice on how to be a good patient!***
https://medium.com/@rebeccaobgyn/how-to-be-a-good-patient-cf8930c0f0bf
Medical articles:
1. "Seven signs that your diet stinks"
Websites: For a comprehensive look at perimenopause:
HAVE YOU BEEN TOLD THAT YOUR BREASTS ARE DENSE?? What does this mean and what should you do?
for information on what this means and what to do next. Please also speak to Dr Levy-Gantt and her capable staff about this issue.
**** Hot Flash Havoc covers the latest tips on cutting edge articles and topics affecting women's health as they are happening. The movie, Hot Flash Havoc, has been appearing on PBS. This updated and newly revised 2016 documentary is now narrated by Goldie Hawn. If you missed it and would like to rent this film on DVD from Dr Levy-Gantt's office, contact us!! *****
NAMS.org
~ Links to information about menopause—–Look for Dr Levy-Gantt as a NAMS-certified Menopause Practitioner!!!
relizen.com
~ Information on a non-hormonal treatment for hot flashes
pourmoi.com
~ info on pelvic floor strengthening,incontinence and how you can improve pelvic function

Recommended books:
"Food and Fitness After 50" by Christine Rosenbloom and Bob Murray (for sale in the office)
"The Love Is There. The Sex Is Not" by Cheryl Strayed and Steve Almond
"The Madwoman In The Volvo—My Year of Raging Hormones" by Sandra Tsing Lo
"I See You Made An EFFORT" by Annabelle Gurwitch
"The Idiot's Guide to BioIdentical Hormones" by Dr. Ricki Pollycove
"The South Beach Diet" by Dr. Arthur Agastaton
"Awakening Athena" by Dr. Kendra Stephenson
"What You Must Know About BioIdentical Hormone Replacement Therapy" by Amy Lee Hawkins PharmD
"How Your Doctor is Slowly Killing You" by Dr. Angela DeRosa—–(yes, I DO recommend this one!!!)
"Parting the Curtains: A Woman's Handbook of Sex and Sexuality" by Dr. Ditza Katz and Dr. Ross Lynn Tabisel (for sale in our office!)
"When Food Is Love" by Geneen Roth
"The Ultimate Volumetrics Diet" by Barbara Rolls
"Menopause Confidential" by Dr. Tara Allmen–Everything You Ever Wanted to Know But Were Too Hot, Tired and Cranky to Ask
Click on the above Prepare for Appointment link for info on various Ob and Gyn related problems.